Online Course Recognized by
TESL Canada Professional Standard 2

Recommended by School Directors Worldwide!
Internationally recognized
Fully online!
Self-paced and semi-asynchronous options
Personal tutor recognized by TESL Canada
Pre-recorded video tutorials, task-integrated ESL class observations, and lab preparation videos
Free job assistance
Includes all course material (printable/online/mobile)
Optional and separate 50-hour Practicum
---
Save

CA$199

US$160

when you add a 20-hour specialist on Teaching English to Young Learners, Teaching English Online, Teaching Business English, or Teaching IELTS.
Recommended for Experienced ESL / English Teachers
The 250-hour TESOL Diploma provides a greater understanding of Communicative Language Teaching (CLT) methods and their impact on ESL curricula.
This recognized online TESOL course is highly recommended for experienced ESL teachers looking to upgrade their qualifications with TESL Canada Professional Standard 2 certification.
INTERNATIONAL ACCREDITATION
International Recognized TESOL Certification
This course has been evaluated and recognized by TESL Canada; a separate and independent accrediting body.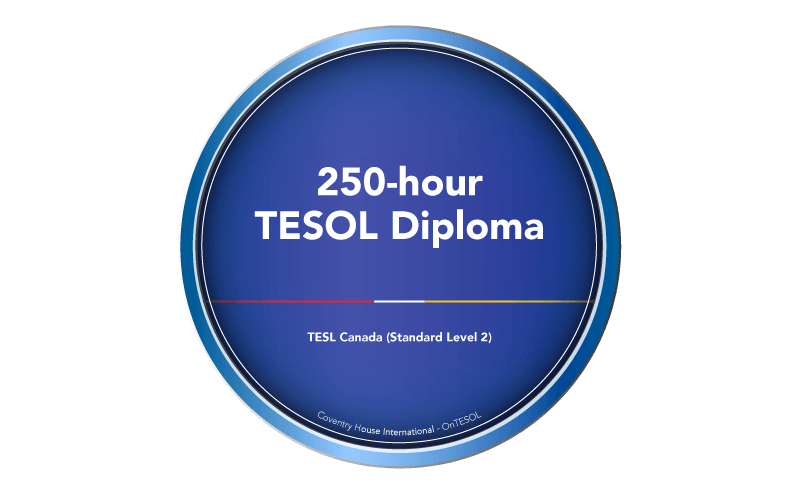 250-hour TESOL Diploma
Upon successful completion of all exams, tasks, and assignments, you will receive a 250-hour TESOL Diploma and a transcript with your marks awarded by Coventry House International – OnTESOL in Toronto, Canada.
Course Entry Requirements

:

The following documents must be provided to successfully enroll in the 250-hour TESOL Diploma:

TESOL / TEFL Certification: A 120-hour TESOL/TEFL/TESL certification is the minimum prerequisite.

ESL Teaching Experience: 2+ years of ESL teaching experience is required to enroll in the 250-hour TESOL Diploma.

University Degree: A minimum of a 4-year BA degree ( in any area) is required to enroll in the 250-hour TESOL Diploma.

Native Speaker Requirement: Candidates born in Canada, the USA, the UK, Australia, New Zealand, or South Africa and those who have completed a university degree in a native English speaking country meet the Native Speaker Requirement. Non-native speakers must submit a valid proficiency score (TOEFL or IELTS) during enrollment.
TESL Canada Professional Standard 2
Graduates who complete the 50-hour Practicum, have a university degree, and are native English speakers (non-native speakers must get a valid proficiency score) are eligible for TESL Canada Professional Standard 2 certification .
In order to be eligible for TESL Canada Professional Standard 2 certification, a candidate must meet ALL the following requirements:
250-hour TESOL Diploma course by Coventry House International – OnTESOL.
University degree from Canada or equivalent (If you completed your degree in another country, you will need to get your documents assessed by WES or CES and send the equivalency assessment to TESL Canada).
21+ years old.
Native-English speaker from Canada, USA, UK, Ireland, Australia, New Zealand, or South Africa. Non-Native speakers must have a valid IELTS Academic (Overall 7 with a minimum of 7 in each skill area) and TOEFL iBT (Overall 101 with a minimum of 23 in Listening, 24 in Reading, 27 in Speaking  and 27 in Writing).
TESOL Diploma Syllabus:
There are a total of 2 exams, 20 assignments, and 7 tasks in this course.
Duration : The online 250-hour TESOL Diploma program was designed for trainees who need to take a TESOL certification course at their own pace in order to meet other work or study commitments. You can enroll any time and the course will be activated within 24 business hours. The minimum time necessary to complete this course is 2 months. The maximum time given to complete this course is 8 months.
Grammar
After completing this module, you will understand complex grammar structures and be able to:
Identify common students' mistakes.
Answer students' grammar questions.
Produce effective grammar lesson plans at different levels in the methodology module.
Methodology
This module will take you through all the stages of planning and delivering effective ESL lessons. It will provide you with the ability to:
Evaluate and use various approaches within the Communicative Language Teaching method (Communicative Approach, Integrated Skills, and Task-based Learning) for teaching grammar, vocabulary, pronunciation, speaking, writing, listening, and reading lessons.
Use different lesson planning models (PPP, ESA, TTT, and TBL) for different ESL levels (Beginner, Intermediate, Advanced, etc.).
Supplement or fully replace the ESL textbook using authentic material and improve the curriculum with lesson plans that meet your students' needs.
Reflect on different testing and assessment strategies.
Phonology
Gain an in-depth understanding of phonological features (articulation of sounds, linking sounds, intonation, assimilation, elision, etc.) to be able to identify students' pronunciation problems and use various techniques to correct students' oral mistakes.
How it Works
Asynchronous Option:
The 250-hour TESOL Diploma program is a self-paced, asynchronous online TESOL course. Study at your own pace during the 8-month deadline.
A personal tutor will be assigned to answer your questions, correct your assignments, and provide you with valuable feedback. The TESOL certificate will be issued on completion of all exams and assignments.
Tuition Fee:
CA$995
US$749
Semi-asynchronous Option:
The semi-asynchronous option allows you to progress through the TESOL Diploma at your own pace and schedule the next available live workshop when you reach the methodology chapter covered in the session.
Add the live 10-hour Lesson Planning Workshop to your online TESOL course for a more interactive learning experience.  The 10-hour workshop consists of a series of 4 live sessions dedicated to the most important lab assignments in the methodology module. Attendance to the live workshops is not mandatory to complete the TESOL Diploma program.